At Larvik, we incorporate physical and operational parameters into a single analysis tool, resulting in the creation of a "Virtual Facility". This enables you to:
Measure KPIs such as throughput, inventory, utilization and lead time
Evaluate material handling requirements
Balance work assignments
Schedule manpower and equipment efficiently
Analyze impact of process variability (downtime, set-up, rework, rejects etc.) and operational variability (demand fluctuation, delayed receipts & dispatches etc.)
To put it simply, our simulations help you save time and cost.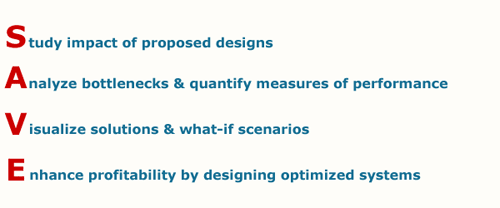 Click on the links on the right to learn more about the different types of applications we have executed.